Cari tahu tentang tips bisnis online, teknologi pembayaran,
pemasaran digital, dan segala yang ingin diketahui tentang Faspay
Payment solutions are now recognized as an 'upgrade' which can meet multinational business owner's needs in payments. For example, Faspay is one of them. Multinational businesses that have a customer base in Indonesia can easily make payments using Faspay.
With Faspay, a payment that is received in Rupiah can be settled in other currencies. Are you a business owner who is interested in this thing? If so, you better not to skip this information below! Let's get to know Faspay!
What is Payment Solutions?
Payment solution is a thing that enables customers to utilize a choice of methods to make payments in e-commerce. Payment solution comprises an electronic payment system which allows you to accept payments online in your e-commerce. The payment provider is going to supply the technical infrastructure for your selected solution.
What is Faspay?
Faspay, an Astel Group subsidiary, was founded in 2003. Faspay has been a system integrator over Mobile Banking systems as well as online payment providers for over 15 years. Since then, Faspay has processed online payments for over 5,000 businesses in various sectors.
Faspay is the first Payment Gateway authorized by Bank Indonesia.
It is dedicated to delivering the best online payment solutions to assist a business in growing by embracing payments through the internet.
What are Faspay's Beneficial Features for Global Merchants?
Faspay is one of the best payment gateways. This is because of the features that are very effective for global merchants. So, what are those features? Below is the list and explanation of each:
1. Online Payment (Faspay Business)
Faspay Business is a feature that offers online payment for companies, including a global merchant. Using this feature, you can serve an online payment option for the customers. The examples of Faspay Business users for several types of business industries are below:
This payment processing solution enables your company to accept payments via virtual accounts, e-money, and credit cards, as well as more than 50 different channels for simple and secure transactions across your application or website.
With the Faspay e-payment system, you or customers can easily top up or get game credits. You can provide various payment methods! Starting from the bank account, va, e-wallet, or money, making it easier for customers to top up
Use the Faspay secure online payment mechanism to activate the courier's Cash-on-delivery (COD) money deposit procedure. 
Also, together with Faspay Business, logistic company can make a unique virtual account for every courier in order to deposit COD money at the Payment Point of Riel Outlets throughout Indonesia
Financial Technology Company Repayment
Faspay Business is used by leading financial services firms such as Kredivo, Julo, as well as Akulaku for a simpler and more rapid user payback method.
2. Payment Link & Digital Invoice (Faspay Billing)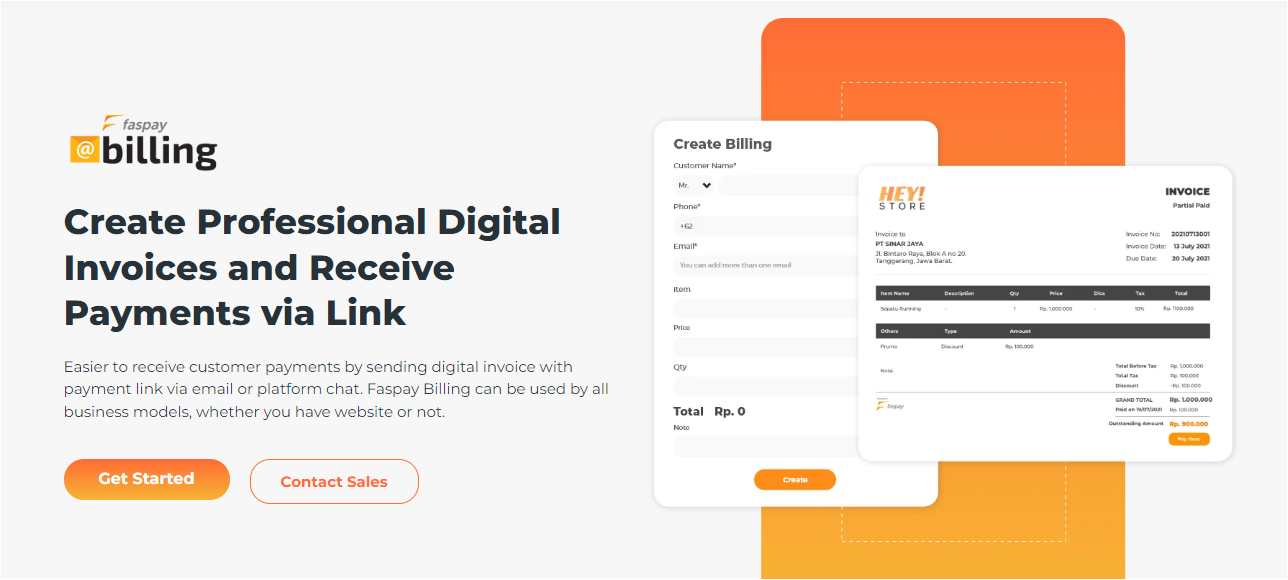 Through this feature, receiving consumer payments is made easier by delivering a digital invoice with a link for payment through email and platform chat. Faspay Billing may be utilized by any company model, regardless of if it has a website and apps or not. Examples of these features are described below:
Book accommodation, lodging establishments, and resorts directly and accept revenues solely through payment links that accept a range of ways to pay.
From school tuition to private courses, Faspay makes it simple to deliver online invoices plus an automatic invoicing system to parents via a choice of channel choices.
Payment of routine bills to monthly maintenance charges becomes more convenient with Faspay online invoices, which may be issued by e-mail, SMS, or other chat platforms.
3. Transfer & Refund (Faspay SendMe)
You can manage your company cash distribution using Faspay SendMe to one or many accounts at once in 150+ Indonesian banks, digital wallets, plus virtual accounts. With this feature, transferring funds is now easier, faster, more affordable and cost-effective than ever! Below are the case examples:
Faspay makes it simpler to send money to your customers and a bill reminder feature is available to give alert every month. 
Faspay Sendme can make it easier for fintech companies to distribute loan funds to thousands of borrowers with one click, and there is a paycheck feature so that it can help avoid payment errors.
Arrange for a low-cost international corporate money transfer.
Improve the refund method for clients and make transferring money to multiple online retailers simple and convenient.
4. Cash Out (Faspay CashOut)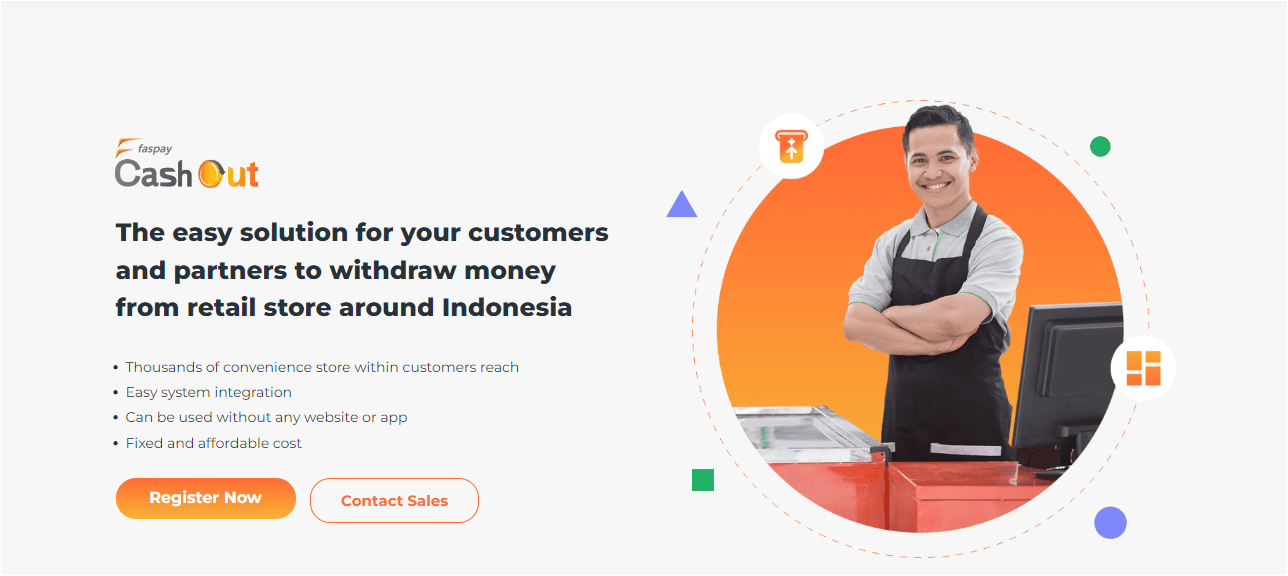 This feature is a simple way for customers or associates of businesses to obtain funds from retail outlets throughout Indonesia. Also, customers can access numerous convenience stores, complete with simple integration of systems. Not only can this feature be utilized without the need for a website or an application, but also the cost is fixed and cheap.
With agreements of many thousands of physical stores throughout Indonesia, Faspay CashOut offers an answer for cash distribution through retail establishments. Using this one of online paying services, You can obtain quick alerts when the distribution procedure is finished and verify the transaction's progress from the dashboard.
5. QRIS
Quick Response Code Indonesian Standard (QRIS), often known as QRIS, is a QR Code-based unification of multiple versions of QR generated by different Payment System Service Providers (PJSP). 
QRIS was launched by the payment system sector in collaboration with Bank Indonesia to make the QR Code transaction process easier, quicker, and more secure. QRIS is included in payment solutions that offers by Faspay. 
Only QRIS allows retailers to take payments from numerous channels. QRIS offered by Faspay is a dynamic QRIS that will be integrated to the merchant's website, application, or online invoice. 
Why Choose Faspay?
Indonesia has grown into one of the world's most rapidly developing economies, followed by the expansion of the online payment business. With Faspay, you can expand your company revenue by accepting payments online. 
Faspay assists businesses of all sorts in collecting money from Indonesian clients and offers a full local payment solution! You should not worry about using Faspay as one of the payment solutions for your business. Trust Faspay's values as low cost, trusted security system, transparent fee, and simple integration process!
Then, whether you want to know more specifically about Faspay features or products, you can access this link to learn more about Faspay Billing, this link to know more about Faspay SendMe, or this link to know about Faspay Business. 
If you want to integrate an online payment solution for business, you can register now as Faspay's partner at this link! You can also read further general information about Faspay Global payment solutions by clicking this link! Together with Faspay, you can grow your business bigger and more innovative!