How does Faspay prices compare to other service providers?
Faspay offers competitive prices. We also charge no additional costs, no maintenance fees, set up fees, fraud detection system fees, as well as other additional costs.
We are prospective partners from abroad, is it possible to work together?
Yes, we also accept partners from abroad. To discuss about the partnership form, you can contact partnership@faspay.co.id
What payment method options are available on Faspay?
The payment methods we provide vary from debit and credit payment methods such as Internet Banking, Mobile Banking, Virtual Accounts, e-Money, Retail Payment, Credit Cards to Online Credit.
What else do I need to know prior to become partner?
Required documents to be completed by propsective partners are listed below: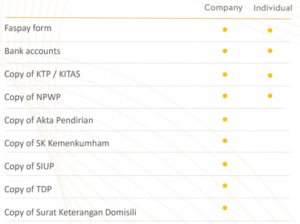 How does the integration process take place?
Once you officially join as Faspay's partner, you will gain an access to our discussion forum for more detailed information regarding  integration support.